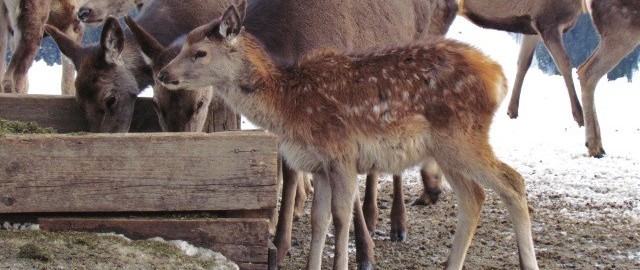 Did you know that fifteen minutes is all it takes to step into a parallel universe?
Skip from the bustling Angertal valley to the world of the forest in futuristic vehicles driven by Thomas and Hans. They will take you through the trees, up to a small clearing in the mountain. Apart from a breath-taking view of the mountains opposite, there is not much to see at first – a long wooden barn and some food containers, but no sign of life.
As you edge your way to the other side of the field however, your eyes suddenly fall upon a deer, then two, then a whole herd. Tens of them are standing on the face of the mountain, dark shapes silhouetted against the white snow, set out like they were disposed there. They are waiting, silently – like you. You can hear the whispering sound of occasional fights as the young males lock, their antlers clicking in the distance like a song.
Thomas fills the containers with food and calls them gently, beckoning them with reassuring words. And then the buck steps forward. He walks alone for some time, well conscious that he is the one leading the parade. Soon enough, another deer follows in his steps, and another, and all of a sudden you are surrounded.
Their delicate-looking antlers and rich-coloured fur, their graceful moves and sparkling eyes form a huge piece of live art, pulsating from all directions. The deer are gentle but nervous. They let you come close but they can suddenly leap away for no reason. They remain wild animals in spite of their proximity with human beings, and that is what makes them so touching.